Hi Guy's and Gal's,
Show Files are up on the Podcast Page, I added a new page this week for the 2017 Podcast Page only and in future weeks will separate out the Podcast to make it easier to find ones you are look for as well as save time when the page loads.
Fun Show Today, Several callers and we talked about a wide range of topics.
Federal releases HST Micro .38 SPL loading, geared at snub market
5/19/17| by Chris Eger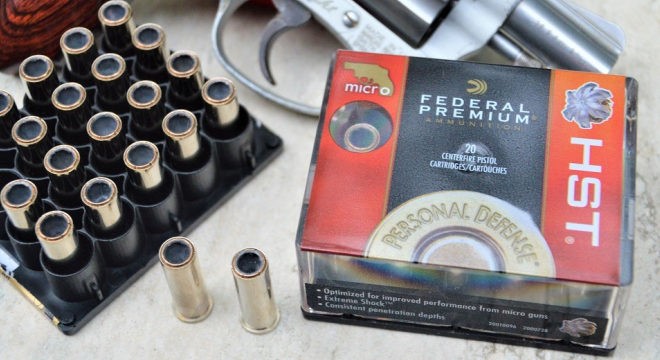 The new HST Micro .38 load is billed as being optimized for the most efficiency and accuracy in subcompact handguns. (Photo: Chris Eger/Guns.com)
Expanding on the line of +P personal defense loads taking aim at those packing subcompact handguns, Federal has a new 130-grain .38 Special round.
Resembling traditional wadcutter ammo, the jacked hollow-point HST Micro is no plinker and uses deep seated bullets to eliminate air inside the case, producing more consistent powder burn rates. The loading is optimized for performance from "micro guns" i.e. snub-nosed revolvers, which have never really gone out of style.
While the HST bullet line dates back to 2002 and has long been popular in law enforcement use, the HST Micro series is much newer, with a 99-grain .380 ACP and 150-grain 9mm load recently introduced, and now augmented by the .38.
As it is a +P load, older revolvers should be off limits for the new Federal ammo, but modern guns rated for that pressure now have a premium new offering on the block to stoke their favorite wheel gun with.
"By combining the HST bullet design with the unique seating depth, we've created the most consistent 38 Special personal defense load on the market," says Federal Premium Handgun Product Lane Director Jason Nash. "We're proud to give those who carry a 38 Special the most effective possible option for the platform."
MSRP is $30.95 for a 20 round box, and Guns.com is currently evaluating this round for an upcoming review.
Oregon governor signs bill to allow more hunting opportunities for youths
Oregon Gov. Kate Brown (D) signed a bill into law Wednesday that will increase hunting opportunities for young hunters in the state.
The National Rifle Association's Institute for Legislative Action reported the measure — HB 2566, sponsored by Rep. Brad Witt (D-31) — will raise the maximum age limit from 14 to 16 years of age for youths who would like to participate in the state's hunter mentoring program.
Under current law, a licensed hunter, 21 or older, can mentor a youth to teach them hunting basics and let them try it out before committing to a lengthy hunter education course.
Ultimately, the goal is for the apprentices to complete the necessary hunter education course so that they can obtain licenses to hunt on their own.
According to the NRA-ILA, nearly 1.5 million licenses have been sold to hunting apprentices in states participating in the mentoring program.